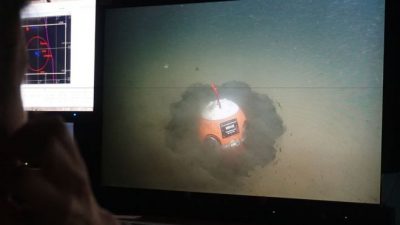 Researchers were able to record a large turbidity current in Monterey Canyon off of the coast of California in January.  The mass of sediment moved more than 50 km from a depth of 300 m below the sea level to more than 1800 m below the sea level.  The turbidity current moved over 8 m/s at certain times.
There is not very much data or recordings of turbidity currents, so this was an important finding.  The researchers used a new piece of technology called the Benthic Event Detector (BED).  It is a sphere that can measure pressure, orientation, flow velocity, amount of sediment, and how the flow moves down the canyon floor.  The BED is able to collect this data despite the large force and abrasion of the turbidity current.  This new information will help the researchers learn more about what triggers the turbidity currents and how they move across the seafloor.
It is thought that 400,000 cubic meters of sediment is moving down Monterey Canyon each year, which brings nutrients and organic matter to the abyssal plain where it can then support the life found there.  Previous studies have been mostly done using deposits from turbidity currents, but recordings of the currents as they happen will vastly improve the understanding of the turbidity currents.
http://www.bbc.com/news/science-environment-38310108
---